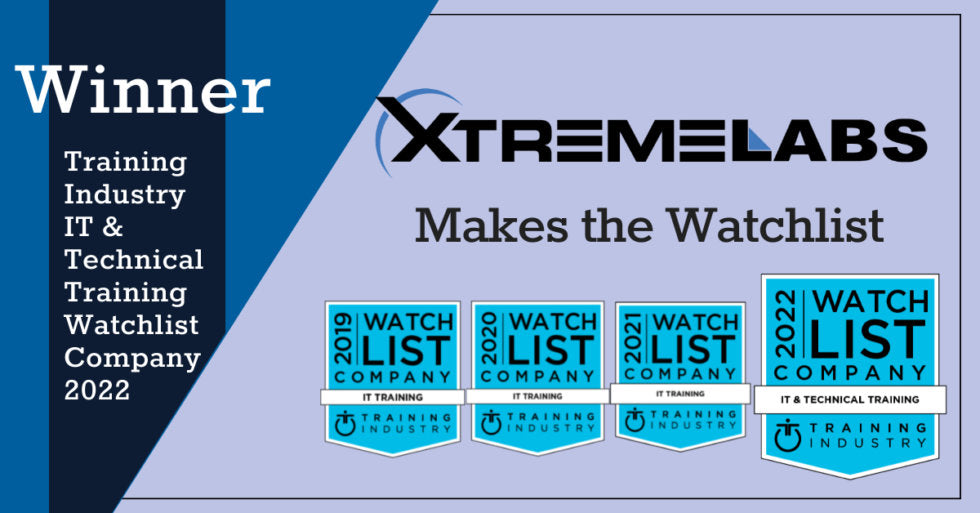 XtremeLabs selected for the prestigious 2022 IT & Technical Training Watchlist by Training Industry
| Domieh Daoud
XtremeLabs continues to make the Training Industry Watchlist year after year. For the fourth year in a row, XtremeLabs is proud and honored to announce our selection in the 2022 Top IT & Technical Training Companies watchlist by Training Industry.  Training Industry, the leading research and information resource for corporate learning leaders, prepares the Training Industry Top 20 report on critical sectors of the corporate training marketplace to better inform professionals about the best and most innovative providers of training services and technologies.
This achievement aligns with XtremeLabs' IT training vision, which is accelerating significantly. We are thankful to our learners' global community, who continue to upskill and reskill themselves using our digital hands-on labs.
XtremeLabs' selection to the 2022 Training Industry Top IT & Technical Training Companies lists was based on the following criteria:
Breadth and quality of program and service offerings.
Industry visibility, innovation and impact in the IT and technical training market.
Client and customer representation.
Business performance and growth.
"The companies chosen for our IT & Technical Training Watchlist offer a breadth of emerging courses on topics and skill sets such as cloud computing, programming and data science, with many different modalities to meet organizations' IT training needs," said Tom Whelan, director of corporate research at Training Industry, Inc. "With an influx of leading-edge content to anticipate and respond to market demands, these organizations are constantly expanding their portfolios to ensure learners receive the most updated IT and technical training needed for success."
"XtremeLabs has long been recognized for our hands-on labs and award-winning lab platform, so we are especially happy to receive this award for IT training," says Judy Zhang, Director of Product at XtremeLabs LLC. "While XtremeLabs will always be an industry leader in labs, we are also working on something very exciting to enhance learners' experiences, which we will announce soon. Thank you to everyone who has partnered with and supported XtremeLabs over the years!"
XtremeLabs' hands-on and experiential IT & technical training innovation continues at a torrid pace. XtremeLabs recently launched some exciting new features which provide a fully immersed learning experience to our learners and equip our instructors/trainers with the ability to cater to their learners' needs in an asynchronous learning environment. We continue to grow and improve technical and IT training offerings across the globe.
Are you interested in knowing more about our new platform updates and features? Feel free to reach out to us!