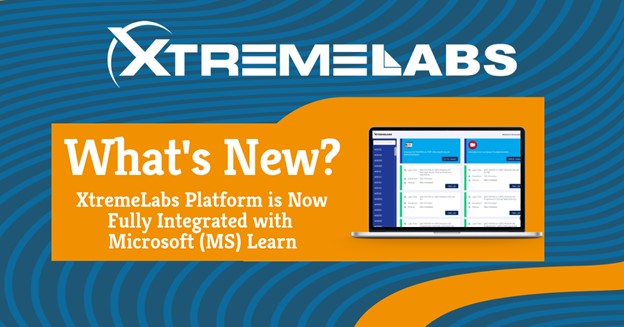 XtremeLabs Platform is Now Fully Integrated with MS Learn
| Domieh Daoud
Some of you may already be following the news about changes to MS Learn and how Microsoft will be tracking Learning Partner and MCT credits.
On May 4, following Microsoft's announcement that they would be transitioning training content to MS Learn, an open learning platform, XtremeLabs began a series of conversations with Learning Partners and Microsoft Certified Trainers to make it easier for their students to access MS Learn content and to track their usage.
As a result, XtremeLabs is announcing some exciting new features on the XtremeLabs platform! We have rolled out some integration features so that our partners don't need to worry about these changes as students transition from accessing training content on Skillpipe to using MS Learn. Our labs are integrated with MS Learn so that learners' and partners' engagement with MS Learn is automatically stored and associated with your MPN ID.
The new XtremeLabs features allows Learning Partners to choose which pieces of integrated content, from MS Learn or elsewhere, to include in students' accounts. The XtremeLabs backend manages all of the APIs, updates, and KPIs that flow between the content and the student experience, associating student access with the Learning Partner's Microsoft Partner Number (MPN ID), so that Learning Partners and Microsoft Certified Trainers don't need to worry about student access or tracking it. The integration is fully managed by XtremeLabs, so all updates made by Microsoft will be dynamically reflected on the XtremeLabs platform.
MS Learn content has been integrated into 123 courses. A list of courses can be found at the end of this blog post. MS Learn content can be accessed by the user:
In the account portal before a lab is launched
In the lab environment after a lab has been launched
Integrated MS Learn Courses in the Account Portal
Once an access code is redeemed, users are able to view MS Learn content as a separate tile in the lab view in the account portal. Once users click on the tile, they are redirected to the corresponding MS Learn Course.
Integrated MS Learn Modules in the Lab Environment
Users can also access the MS Learn content from within the lab environment. After a lab has been launched, users can view the MS Learn modules under the file section of the lab manual. Users are redirected to the corresponding MS Learn Module.
For labs purchased through Courseware Marketplace, the MPN ID will already be linked and added to the Learning Partner profile. For labs purchased directly through XtremeLabs, the administrators of the learning partners have access to update and add MPN ID for their classrooms under the manage classrooms tab in the account portal. After the MPN ID is associated with the classroom, any student launching labs through a code from that classroom will then have the MPN ID associated with their launches.
XtremeLabs is conducting a series of live demos of the new capability. Please register here. You can also watch a recorded webinar here!
If you have any questions about the MS Learn integration, contact our Sales Team!
Labs Currently Integrated with MS Learn Content
| | |
| --- | --- |
| Course Name | Course Title |
| 40501G | Microsoft Cloud Workshop: Cloud-native applications |
| 40502G | Microsoft Cloud Workshop: Big data analytics and visualization |
| 40505G | Microsoft Cloud Workshop: Internet of Things |
| 40508G | Microsoft Cloud Workshop: Modern Cloud Apps |
| 40511G | Microsoft Cloud Workshop: Continuous delivery in Azure DevOps |
| 40512G | Microsoft Cloud Workshop: App Modernization |
| 40513G | Microsoft Cloud Workshop: Building a Resilient IaaS Architecture |
| 40514G | Microsoft Cloud Workshop: Migrating Oracle to Azure SQL or Postgre SQL |
| 40515G | Microsoft Cloud Workshop: Enterprise-Class Networking in Azure |
| 40530G | Microsoft Cloud Workshop: Analyzing text with Azure Machine Learning and Cognitive Services |
| 40535G | Microsoft Cloud Workshop: Serverless Architecture |
| 40551A | Microsoft Security Workshop: Enterprise Security Fundamentals |
| 40557G | Microsoft Cloud Workshop: Cosmos DB Real Time Advanced Analytics |
| 40558G | Microsoft Cloud Workshop: Line-of-business application migration |
| 40559G | Microsoft Cloud Workshop: MLOps |
| 40560G | Microsoft Cloud Workshop: Predictive Maintenance for remote field devices |
| 40562G | Migrating SQL databases to Azure |
| 40564G | Microsoft Cloud Workshop: Securing the IoT end to end |
| 40573G | Microsoft Cloud Workshop: Hybrid identity |
| 40578G | Microsoft Cloud Workshop: Implementing Windows Virtual Desktop in the enterprise |
| AI-102T00-A | Designing and implementing a Microsoft Azure AI Solution |
| AI-102T00-A-CEP | Designing and implementing a Microsoft Azure AI Solution |
| AI-900T00-A | Microsoft Azure AI Fundamentals |
| AI-900T00-A-CEP | Microsoft Azure AI Fundamentals |
| AZ-010T00-A | Azure Administration for AWS SysOps |
| AZ-010T00-A-CEP | Azure Administration for AWS SysOps |
| AZ-020T00-A | Microsoft Azure solutions for AWS developers |
| AZ-020T00-A-CEP | Microsoft Azure solutions for AWS developers |
| AZ-030T00-A | Microsoft Azure technologies for AWS architects |
| AZ-030T00-A-CEP | Microsoft Azure technologies for AWS architects |
| AZ-040T00-A | Automating Administration with PowerShell |
| AZ-040T00-A-CEP | Automating Administration with PowerShell |
| AZ-104T00-A | Microsoft Azure Administrator |
| AZ-104T00-A-CEP | Microsoft Azure Administrator |
| AZ-120T00-A | Planning and Administering Microsoft Azure for SAP Workloads |
| AZ-120T00-A-CEP | Planning and Administering Microsoft Azure for SAP Workloads |
| AZ-140T00-A | Configuring and Operating Microsoft Azure Virtual Desktop |
| AZ-204T00-A | Developing Solutions for Microsoft Azure |
| AZ-204T00-A-CEP | Developing Solutions for Microsoft Azure |
| AZ-220T00-A | Microsoft Azure IoT Developer |
| AZ-220T00-A-CEP | Microsoft Azure IoT Developer |
| AZ-400T00-A | Designing and Implementing Microsoft DevOps solutions |
| AZ-400T00-A-CEP | Designing and Implementing Microsoft DevOps solutions |
| AZ-400T06-A | Implementing Continuous Feedback |
| AZ-400T07-A | Designing a DevOps Strategy |
| AZ-500T00-A | Microsoft Azure Security Technologies |
| AZ-500T00-A-CEP | Microsoft Azure Security Technologies |
| AZ-600T00-A | Configuring and Operating a Hybrid Cloud with Microsoft Azure Stack Hub |
| AZ-700T00-A | Designing and Implementing Microsoft Azure Networking Solutions |
| AZ-700T00-A-CEP | Designing and Implementing Microsoft Azure Networking Solutions |
| AZ-800T00-A | Administering Windows Server Hybrid Core Infrastructure |
| AZ-800T00-A-CEP | Administering Windows Server Hybrid Core Infrastructure |
| AZ-801T00-A | Configuring Windows Server Hybrid Advanced Services |
| AZ-801T00-A-CEP | Configuring Windows Server Hybrid Advanced Services |
| AZ-900T00-A | Microsoft Azure Fundamentals (2 Day) |
| AZ-900T00-A-CEP | Microsoft Azure Fundamentals (2 Day) |
| AZ-900T01-A | Microsoft Azure Fundamentals (1 Day) |
| AZ-900T01-A-CEP | Microsoft Azure Fundamentals (1 Day) |
| DP-050T00-A | Migrate SQL workloads to Azure |
| DP-050T00-A-CEP | Migrate SQL workloads to Azure |
| DP-060T00-A | Migrate NoSQL workloads to Azure Cosmos DB |
| DP-060T00-A-CEP | Migrate NoSQL workloads to Azure Cosmos DB |
| DP-070T00-A | Migrate Open Source Data Workloads to Azure |
| DP-070T00-A-CEP | Migrate Open Source Data Workloads to Azure |
| DP-080T00-A | Querying Data with Microsoft Transact-SQL |
| DP-090T00-A | Implementing a Machine Learning Solution with Microsoft Azure Databricks |
| DP-100T01-A | Designing and Implementing a Data Science Solution on Azure |
| DP-100T01-A-CEP | Designing and Implementing a Data Science Solution on Azure |
| DP-203T00-A | Data Engineering on Microsoft Azure |
| DP-203T00-A-CEP | Data Engineering on Microsoft Azure |
| DP-300T00-A | Administering Relational Databases on Microsoft Azure |
| DP-300T00-A-CEP | Administering Relational Databases on Microsoft Azure |
| DP-420T00-A | Designing and Implementing Cloud-Native Applications Using Microsoft Azure Cosmos DB |
| DP-420T00-A-CEP | Designing and Implementing Cloud-Native Applications Using Microsoft Azure Cosmos DB |
| DP-900T00-A | Microsoft Azure Data Fundamentals |
| DP-900T00-A-CEP | Microsoft Azure Data Fundamentals |
| MB-200T01-A | Dynamics 365: Power Platform applications |
| MB-200T02-A | Dynamics 365: Power Platform automation |
| MB-200T03-A | Dynamics 365: Power Platform integrations |
| MB-200T04-A | Dynamics 365: Power Platform test and deploy |
| MB-210T01-A | Microsoft Dynamics 365 Sales |
| MB-220T00-A | Microsoft Dynamics 365 Marketing |
| MB-230T01-A | Microsoft Dynamics 365 Customer Service |
| MB-240T00-A | Microsoft Dynamics 365 Field Service |
| MB-260T00-A | Microsoft Customer Data Platform Specialty |
| MB-300T00-A | Microsoft Dynamics 365: Core Finance and Operations |
| MB-310T00-A | Microsoft Dynamics 365 Finance |
| MB-320T00-A | Microsoft Dynamics 365 Supply Chain Management, Manufacturing |
| MB-330T00-A | Microsoft Dynamics 365 Supply Chain Management |
| MB-340T00-A | Microsoft Dynamics 365 Commerce Functional Consultant |
| MB-500T00-A | Microsoft Dynamics 365: Finance and Operations Apps Developer |
| MB-700T00-A | Microsoft Dynamics 365: Finance and Operations Apps Solution Architect |
| MB-800T00-A | Microsoft Dynamics 365 Business Central Functional Consultant |
| MB-900T00-A | Dynamics 365 fundamentals |
| MB-910T00-A | Microsoft Dynamics 365 Fundamentals (CRM) |
| MB-920T00-A | Microsoft Dynamics 365 Fundamentals (ERP) |
| MD-100T00-A | Windows Client |
| MD-101T00-A | Managing Modern Desktops |
| MD-101T01-A | Deploying the Modern Desktop |
| MD-101T02-A | Managing Modern Desktops and Devices |
| MD-101T03-A | Protecting Modern Desktops and Devices |
| MS-100T00-A | Microsoft 365 Identity and Services |
| MS-101T00-A | Microsoft 365 Mobility and Security |
| MS-203T00-A | Microsoft 365 Messaging |
| MS-500T00-A | Microsoft 365 Security Administration |
| MS-600T00-A | Building applications and solutions with Microsoft 365 core services |
| MS-600T00-A-CEP | Building applications and solutions with Microsoft 365 core services |
| MS-700T00-A | Managing Microsoft Teams |
| MS-720T00-A | Microsoft Teams Voice Engineer |
| MS-900T01-A | Microsoft 365 Fundamentals |
| PL-100T00-A | Microsoft Power Platform App Maker |
| PL-200T00-A | Microsoft Power Platform Functional Consultant |
| PL-300T00-A | Microsoft Power BI Data Analyst |
| PL-400T00-A | Microsoft Power Platform Developer |
| PL-600T00-A | Power Platform Solution Architect |
| PL-900T00-A | Microsoft Power Platform Fundamentals |
| SC-200T00-A | Microsoft Security Operations Analyst |
| SC-200T00-A-CEP | Microsoft Security Operations Analyst |
| SC-300T00-A | Microsoft Identity and Access Administrator |
| SC-400T00-A | Microsoft Information Protection Administrator |
| SC-900T00-A | Microsoft Security, Compliance, and Identity Fundamentals |
| WS-013T00-A | Azure Stack HCI |
| WS-013T00-A-CEP | Azure Stack HCI |