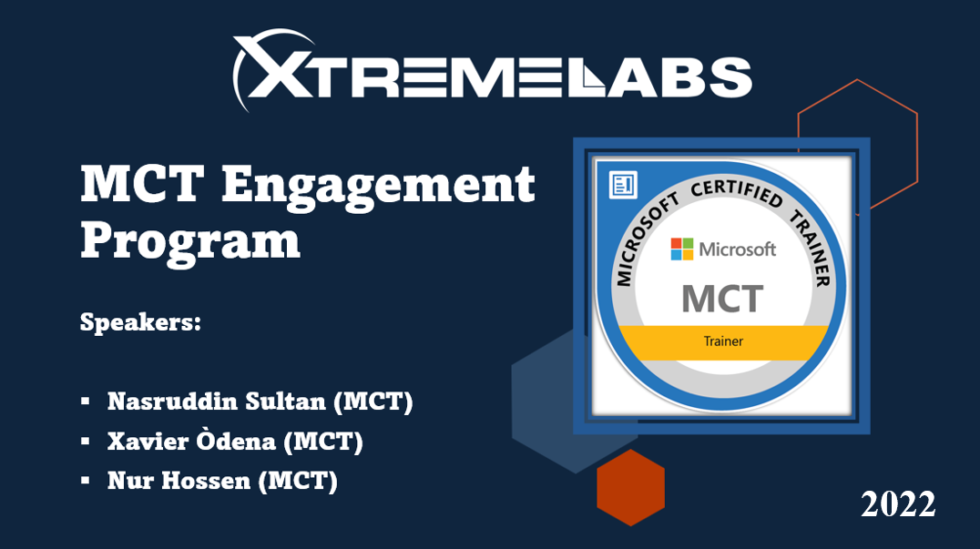 MCT Engagement Program
| Domieh Daoud
A big thank you to Microsoft Certified Trainers Nasruddin Sultan, Xavier Odena, and Nur Hossen for taking part in our MCT video! In one of our 2022 MCT outreach initiatives, XtremeLabs interviewed three MCTs to gain their insights on the MCT program, their background as an MCT, and their experience with XtremeLabs.
Meet the MCTs
Nasruddin Sultan
Nasruddin holds a master's degree of science in eBusiness from The University of Bolton, UK majoring in Information & Communication Technology, e-Commerce & M-Commerce Technology. He became a Microsoft Certified Trainer (MCT) back in 2019 and a RedHat Certified Trainer in 2021. He specializes in System and Infrastructure design and development as well as script deployment. For over 20 years, Nasruddin has been teaching various IT products including Microsoft, Oracle, RedHat, SuSE, Sun Solaris, Novell, Cisco, and more.
Xavier Odena
Xavier has been a Microsoft network administrator since 1995 serving companies like PT-BCN . He specializes in Microsoft network administration, Active Directory, Windows Servers, Exchange, ISA (TMG), SMS, security, networking, Citrix, SharePoint, and System Center.
Nur Hossen
Nur is an information technology professional experienced in IT Infrastructure & Planning, IT Service Management, System Administration, Systems Security, IT Governance and Compliance, Policy and Procedures review, Network Administration, Team Lead, Enterprise Systems Design / Deployment, and IT Project Management. He has over 13 years of professional experience with distinguished enterprises; having numerous successful IT Infrastructure & Application deployment and live migration Project Management experience; Best Practices for Process Management & IT Security / Compliance; Team Development, Project Management, and Windows Security.
We asked the MCTs to share their thoughts on the following topics:
Background and experience as an MCT
Areas of expertise
Reasons for becoming an MCT
MCT Benefits
Experience using the XtremeLabs digital learning labs.
How lab prep provides benefits to MCTs
Student Feedback about XtremeLabs
If you are interested in participating in an MCT outreach initiative, please contact us today!
XtremeLabs is the official lab hoster for the MCT Readiness program. MCTs can gain access to Microsoft labs for free for class prep by validating their MCID and the associated email address. In coordination with our MCT community, XtremeLabs has been hosting monthly MCT Meetups led by different MCTs to discuss MCT benefits, MCT exams, certifications, and other topics. Register for the upcoming meetups and learn more about MCT benefits on the Microsoft Certified Trainers page on our website.
If you would like to host one of our upcoming MCT Meetups, contact our Events Team!