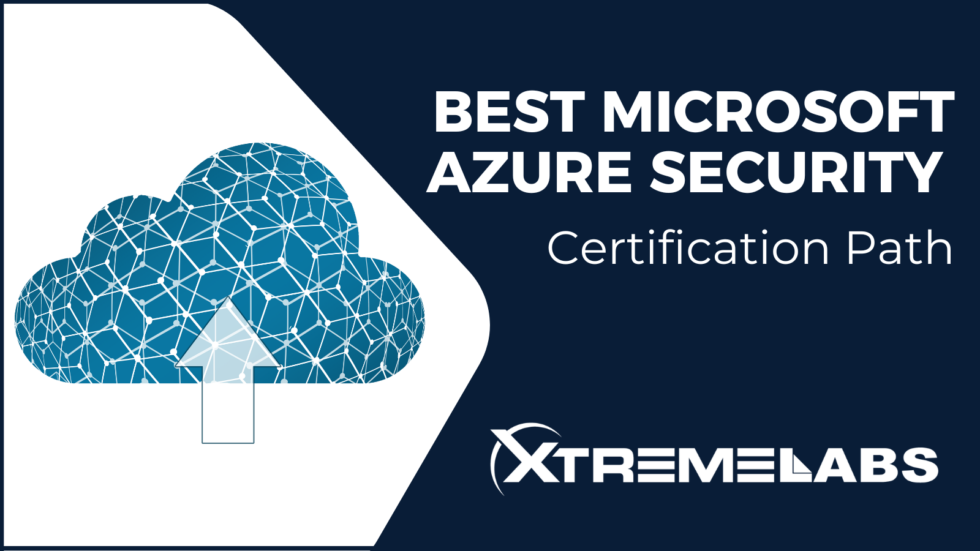 Best Microsoft Azure Security Certification Path
| Domieh Daoud
By: Sehrish Rafique, Virtualization Solutions Specialist at XtremeLabs
What is Azure and Azure Security?
The cloud computing market is growing rapidly worldwide with an increasing number of cloud vendors. To stay competitive, most businesses are moving to the cloud.
Azure is Microsoft's cloud computing platform and is known as the leading cloud computing service in the world. Azure Security Engineers are responsible for managing end-to-end security on the Azure platform.
Due to this impact, Azure Security Certification is one of the most in-demand IT certifications in the industry with a variety of career options.
Which path should I follow to become an Azure Security Engineer?
Are you wondering which Azure exams you should pass to become an Azure Security Engineer and what path is right for you? Before you start your journey, you should have all the necessary information otherwise you will keep straying from the path. You cannot simply do a google search, choose the first few courses that appear, and get into the trap of doing more and more courses irrespective of their scope and outdated materials.
This article is going to guide you on the right path for Azure Security Certifications along with guidance on study material. Let us get started.
Azure Security Certification Path:
The Azure Security certification path starts from the beginner level, goes through the intermediate level, and finishes at the associate level as a Certified: Azure Security Engineer.
1. AZ-900: Azure Security Fundamentals (Optional)
Azure Fundamentals is the first certification in this journey. If you have already been working in an environment where you have the core knowledge of cloud computing services and Azure cloud concepts, you do not need to have this certification.
If you have no knowledge of Azure and cloud services, you should start with this certification. The exam for this certification is AZ-900: Azure Fundamentals and it tests your knowledge on the following topics:
cloud concepts
Azure privacy
basic security concepts
compliance, support, and pricing
Azure web apps
Azure AD
On the basis of the Official curriculum by Microsoft, this certification is the ideal foundation for Azure Security and all other Azure certifications, including Azure DevOps, and Azure Administrator.
There are two variations of this exam, AZ-900T01 (short exam) and AZ-900T00 (longer exam). Both exams are equally acceptable and you can choose to sit for either based on the time you have and the knowledge you want to gain.  Choosing to sit for the shorter exam is sufficient to help move you towards your career in Azure Security Certification.
Free online resources and exam materials for the AZ-900 course can be found on the Microsoft site.
2.      AZ-104: Azure Administrator
The next certification in this path is the Azure Administrator for which you should pass the AZ-104: Azure Administrator exam. This exam measures your skills for:
management of Azure subscriptions
administering infrastructure
virtual machine configuration
connecting Azure on-premises sites
managing network traffic
implementation of web apps and containers
azure backups
monitoring of Azure
After getting this certification, you will be qualified to apply for the Azure Security Engineer Certificate. You can choose to move from this step to other flexible roles like becoming an Azure Administrator, Azure Cloud Engineer, etc.
This certification also covers the prerequisites for some expert-level certifications like:
AZ-400: Azure DevOps Engineer
AZ-305: Azure Solution Architect
MCT: Microsoft Certified Trainer
Free online resources and exam materials for the AZ-104 course can be found on the Microsoft site.
3.      AZ-500: Microsoft Azure Security Technologies
The last exam is the Microsoft Azure Security Technologies exam. After passing this exam you will become a Microsoft Certified: Azure Security Engineer Associate. The prerequisites for this exam are the subject matter expertise in the following topics (AZ- 104 covers all these prerequisites and is mandatory for this exam):
Azure data
web applications
security policies
networking in cloud and hybrid environments
knowledge about the end-to-end infrastructure of Azure
protecting identities
After you have passed this exam, you can secure the job of Security Engineer and serve as part of a large team for planning and implementing cloud-based security and management.
This exam can be taken in English, Korean, Chinese (Simplified), and Japanese.
You will be challenged with complex business scenarios during this exam, and you must read through them to select the correct answer.
Free online resources and exam materials for the AZ-500 course can be found on the Microsoft site.
Hands on Practice Labs:
Microsoft has collaborated with authorized lab hosters like XtremeLabs which provide experiential hands-on labs to help students prepare for the exams within immersive IT environments. With the MS learn integration, you will be able to access both the lab and content within the lab environment.
Bottom Line:
Certifications like AZ-500 are more than just exams. An AZ-500 certificate will not only connect you to big names in the IT industry but also boosts your confidence. It has proven to be a right fit for an Azure technical engineer, Azure security consultant, or any other Azure cloud architect. Additionally, it ranks among the top cloud security certification courses on the market.
With these resources, the Azure Security Engineer certification is completely achievable. Best of luck in your journey!